Menu of the Moment
En savoir plus :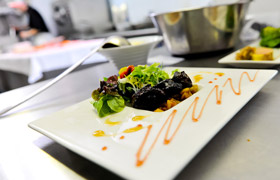 Our Starters
Puff pastry with spanich ans snails, chives sauce.

Duck terrine with foie gras, fig confit, ceral bread.

Octopus marinated with citrus, tomato confit, olive and lemon vinaigrette.

Mushroom declination : Velvety mushroom with garlic ; creme brulee; oyster mushroom and gorgonzola tartlet.
Our Dishes
Duck breast, cider and appel jus; Carrot mousseline.

Piece of beef slices like a rib, camembert sauce ; Fries and squash flan.

Bacon monkfish medallion, white wine emulsion; Risotto with leek.

Pan-fried swordfish steak, citrusz cream ; Tagliatelle.
(All our meats come from C.E.E)
Our Cheeses Raw Milk
Cheese plate with salad : Comté and Camembert
Our Desserts
Pear and chocolate tiramisu.

Clementine and chestnut soaked, chestnut ice cream.

French toast with caramelized apple, cinnamon ice cream.

Fresh fruit salad, passion fruit sorbet; crispy tile.
All the chocolates present in our desserts are Valrhona.
Our ice creams and sorbets are homemade.
Our restaurant is closed sunday evenings, mondays ans tuesdays all day.