Menu of the Moment
En savoir plus :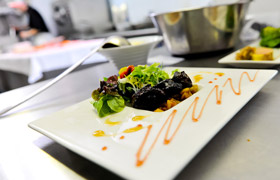 Starters

Jerusalem artichoke cream soup, whipped cream with poppy seeds, bread with marinated anchovies.
Snails from "Pré d'Auge" in puff pastry, mushrooms and garlic butter.
Carrot flan with honey and nuts, smoked duck-breast filet and goat's cream.
Poached egg on its kadaïf nest, parmesan cheese cream, roasted andouille from Vire
Smoked trout cheesecake made in house revisited with Saint Môret and Tuc biscuit.
Our Dishes
Lamb shank confit for a long time with herbs, semolina in olive oil and dried fruits.
Fried sirloin steak of beef, Penja pepper sauce and potatoes galette.
Breaded duckling fillet with sesame then grilled, balsamic vinegar juice, red kuri squash mousseline and roasted pear.
Roasted cod, chorizo slices, meat juice and mashed Vitelotte potatoes.
Fried monkfish skewer, curry cream and tagliatelle with leek
(All our meats come from C.E.E)
Our Cheeses Raw Milk
Cheese plate A.O.P : Camembert, Livarot and Neufchâtel.
Hot crispy candies of Pont L'Evêque and small lettuce.
Our Desserts
Soft clementine cake soaked in orange syrop, "Imperial Mandarin" ice cream.
Homemade crepe terrine with cream infused with Calvados, pan fried apples and crème fraiche ice cream.
All chocolate plate : Milk chocolate mousse, dark chocolate brownie, dulcey chocolate millefeuille and white chocolate panna cotta, blueberry coulis.
Baked Alaska with lemon, citrus coulis.
Fresh exotic fruit salad, lychee sorbet and coconut biscuit.
All the chocolates present in our desserts are Valrhona.
Our ice creams and sorbets are homemade.