Menu of the Moment
En savoir plus :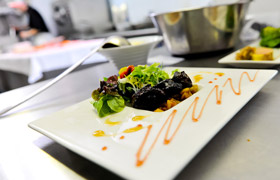 Our Starters

Toamto carpaccio with mozzarella di bufala balls and basil pesto.
Melon tartare with Porto and sorbet with smoked ham.
Tuna marinated in soy and sesame oil, wasabi crumble.
Brick sheet with avocado guacamole and citrus shrimp.
Our Dishes
Prepared Beef tartare, barbecue espuma; Roasted potatoes.
Parmentier of blood sausage, apple reduction; Arugula.
Fried Cod herbs and garlic cottage cheese sauce; Steamed vegetables.
Slices of snacked Mackerel, Muscadet cream; Lemon and pepper pasta.
(All our meats come from C.E.E)
Our Cheeses Raw Milk
Cheese plate A.O.P : Camembert, Pavé d'Auge and Tomme of " Mézidon " .
Salad supplement : 2€
Our Desserts
Pavlova with red fruits : Sorbet raspberry, whipped cream redcurrant and strawberry.
Ice cream cone and exotic sorbet : Pineapple; Mango; Coconut; Lychee; Passion fruit.
Cacao biscuit topped with dark chocolate crisp duo foam milk chocolate and white chocolate.
Fresh fruit salad, fig sorbet and almond biscuit.
All the chocolates present in our desserts are Valrhona.
Our ice creams and sorbets are homemade.