Restaurant
En savoir plus :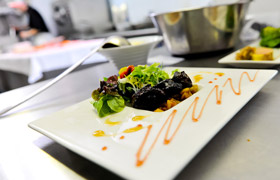 Liens connexes :
Discover "bistronomical" cuisine!
Hôtel Saint-Pierre offers you a "bistronomical" eating experience combining simplicity and refinement, tradition and innovation, reflecting the personality of its chef, Benjamin Trémauville.
Benjamin Tremauville draws on his experiences at the high-end New York restaurant, "Daniel's", and the brasserie of Musée Malraux in Le Havre, to create a modern style of cuisine all his own with something for all ages. Perfectly pairing flavours and inspiration, his heart goes into everything he touches from the humblest Croque-Monsieur or Omelette to Tajine-with-a-twist or delicately prepared fish. He painstakingly chooses ingredients with an eye to quality and freshness - to the delight of your tastebuds!
Enjoy your meal relaxing on a bar stool or comfortably settled in the restaurant dining area. "Bistronomical" cuisine also means you are free to settle in wherever you like!
To make sure you want to come back, time and again, the highly affordable menus change regularly...
Click here to see the menu and prices
Discover the restaurant photo gallery
The restaurant is closed Saturday noon, Sunday evening and Monday noon.