Local sightseeing
En savoir plus :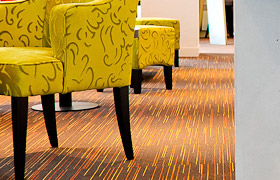 Liens connexes :
Blessed with a particularly rich heritage, Mézidon Canon is home to several must-see monuments that usher you back in time. All aboard!
In Mézidon Canon
> Saint-Pierre du Breuil church
This magnificent twelfth-century Roman church is a classified historical monument. A portico and two small chapels were added in the fifteenth and eighteenth centuries. It is notable for its frontal carved with rinceaux (foliage scrolls), as well as its confessional and baptismal fonts from the seventeenth century.
> Château du Breuil
Built in the regional style of architecture, this half-timbered château with its pink slate tiles is still steeped in the history of the great families that once called it home. Built between the sixteenth and seventeenth centuries at the centre of a lovely estate, it offers visitors the chance to discover one of the most prestigious Calvados distilleries.
> Château de Canon
After the original seventeenth-century Château de Canon was destroyed, it was rebuilt in the eighteenth century by Jean-Baptiste Jacques Elie de Beaumont, who is behind the harmonious pairing of architecture and landscaping that have survived to this day. A unique blend of styles, this superb historical monument is still home to its founders' descendents, and has all the charm of other stately homes that are still inhabited.
> Abbaye de Sainte-Barbe-en-Auge
The Abbaye de Sainte-Barbe-en-Auge was founded around 1055 to house relics of Saint Barbara brought back from Constantinople. Miraculous healings were attributed to these relics. Two buildings still stand on the mystical site: the tithe barn and the monk's dormitory. They say it is also haunted by the spirit of the young martyr from Asia Minor who was beheaded by her own father for embracing the Christian faith...
In the area
> Château de Crèvecoeur - Schlumberger Museum Foundation
The Château de Crèvecoeur is a magnificently preserved, genuine medieval castle protected by complete fortifications and a moat. Its exhibits tell the story of its history and construction, as well as the adventures of the Schlumberger brothers, local mining pioneers who chose this castle to house their memorabilia and inventions.
> Abbaye de Saint-Pierre-sur-Dives
This Benedictine abbey founded in the eleventh century is one of the most complete groupings of monastic architecture in Normandy. It is known for its towers, its two storeys, its ambulatory with five chapels, and a line formed by the noon sun which, depending on the season, falls on one of two signs of the zodiac on either side of it. The famous abbey celebrates its one thousandth birthday in 2011. Don't miss it!
A little farther
Caen, the city of William the Conqueror
Why not prolong your stay in Mézidon Canon for a day trip to Caen, the famous city of William the Conqueror? The city is renowned for its well-preserved heritage and its crucial importance to the outcome of World War II. The city played a key role in the Invasion of Normandy, located as it is mere kilometres from the beaches where the Normandy Landings took place. Come discover its many museums and its peace memorial.
Le Havre, its port and museums
This urban centre is important for its seaport - the second largest in France and fifth largest in northern Europe. The world's largest ships can be seen moored here, as can international cruise ships. You'll love the many impressionist works to be admired at Musée André Malraux. The movement's greatest artists beckon you: Boudin, Courbet, Monet, Renoir, Guillaumin, Dufy, Marquet, Sisley, Pissarro, Jongkind and others!
www.mezidonhistoire.canalblog.com www.chateau-breuil.com www.passionchateaux.com www.chateau-de-crevecoeur.com www.mairie-saint-pierre-sur-dives.fr www.ville-caen.fr www.tourisme.caen.fr www.lehavretourisme.com www.havre-port.fr www.ville-lehavre.fr www.musee-malraux.ville-lehavre.fr www.memorial-caen.fr www.chateaudecanon.com